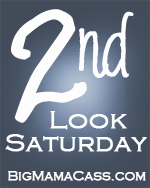 So here is a great new blog hop that I found today! The rules are simple. Re post a blog of your own that you think deserves a second look! Post the
button
and
link up
!
So here is a post from June 24 not that long ago!!
_________________________________________________
So where have I been? I could tell you some BIG lie about being so busy that I just haven't had a chance!!! Well I haven't been busy at all. I could tell you that I decided to DISCONNECT from technology for a while but if you really knew me, you would know that was simply untrue!! I would sleep with my iPhone if it didn't bother my husband. I really do not have one good reason why I haven't been on my OWN website. I even got an award!?! (BTW..that was completely AWESOME!!)Well, I sure hope that you will forgive me for being away cause I AM BACK, BABY!!
So what now? I have a serious question that needs an open and honest response. How many true friends do you have in your life? By true friends I mean the ones that you can honestly rely on for anything, not the ones that you think will be there for you only to disappoint you. I can honestly say that I have 2 true friends in my life. One of course is my husband and the other is my high school bff. She lives 4 hours away but is always with me in spirit. (Notice I didn't mention family members outside my home!)
So throw a dog a bone and leave a response! I don't think you can write it off your taxes but you can have a nice feeling knowing that you helped a lost soul in search of some answers!!! Oh, and don't forget...SMILE, someone needs it today!!!!