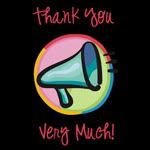 It's Free Therapy Day! That's right, you heard me! No more excuses as to why you can't figure out why all your relationships
SUCK
!
Visit
Daily Dribbles
and grab the button and let it all hang out! The way it works is that you take out all your frustrations on people/things that peeved you off during the week and thank them in a very sarcastic way, for being who or what they are/doing what they did. So hold on your panties, girls, I am getting me some
FREE THERAPY!!
Thank you very much, my precious little 2 yr old for making me hate the phrase "No way". I remember, not that long ago, using it in sentences and thinking to myself, Man I am REALLY Cool. Now after hearing it repeatedly day and night, I know I can live the rest of my life not hearing it again! So thank you for making me realize that I am annoying, not cool.
Thank you very much squash bugs. Without your need to kill my plant, I would have never known, truly what a terrible farmer I really am.
Thank you very much my beautiful little girls, without you I would be such a stuck up mom. Just when I start to get a little bit of a big head about what angels I have raised, you pop that bubble with a simple, "Mom why is sister taking her diaper off?" Of course, we are in the middle of Target! How, why and exactly when I have no answer to but I can tell you, she at least had enough decency to wait until the parking lot to pee!
Thank you very much soccer. Don't get me wrong, I can go all day with David B. and no shirt but really you need to be that interesting? Can you at least have shorter innings or whatever you call it, 45 minutes, really? By the time the game is over, I am too tired and have done forgot what in the world I was mad about, really?
So now it's your turn to let it out! Grab the
button
&
link up
.